Globe Echo - Recumbent Bike, Motorized Quadricycle: What If Light Vehicles Made Their Way Into The City?
Détails

Création : lundi 27 février 2023 09:02
Mis à jour : mardi 28 février 2023 12:39
Écrit par FR37H - Thierry LEQUEU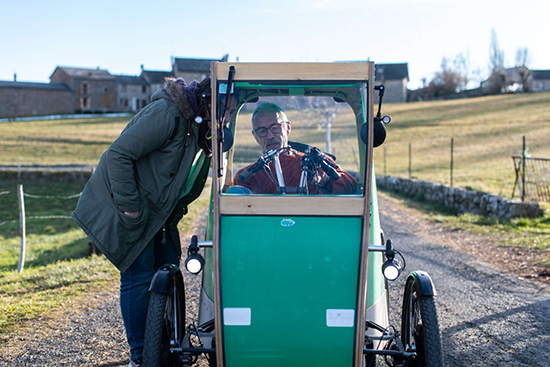 Four wheels, a pedal set, an electric motor, a fairly high steering wheel, a plastic casing patched up with tape… Here is the "veloto", bike-car, that Hélène and Michel Jacquemain, who live in Castelnau-Pégayrols (Aveyron, 340 inhabitants), borrow to do their shopping in Millau, 20 kilometers from their home. There "critter", as they call it, is made by a craftsman from Carcassonne. "We wanted a vehicle suitable for our travels. The bike, even electric, is insufficient on the roads of Aveyron, too slow and not powerful enough. The car, even comfortable, is far too heavy. Like a jackhammer where tweezers would suffice"explains Hélène Jacquemain with a laugh.
At the other end of France, in Soissons (Aisne), Arnaud Sivert travels with one or other of his two vehicles: "A recumbent bicycle, which has done 60,000 kilometers, and a velomobile"a kind of electric bicycle covered with an oblong plastic shell, 30,000 kilometers on the clock. "Between a classic bike and a recumbent, the energy consumed is halved! », launches this Geo Trouvetou, who has tinkered with his rolling objects himself. To get to Laon, the prefecture of the department, he needs an hour and a quarter, and it takes "three hours dragging a bit" to reach the capital.
...